A couple weeks back, one of my Facebook friends posted a story about two class-action proceedings against Yelp.  Today, I saw the latest from Inc. – "Yelp's Legal Troubles Mount" – about a third lawsuit.  I was immediately moved to write this.
First: Yelp is an online customer review site.  As the trademarked tagline under the logo says: "Real People.  Real Reviews."  Dry cleaners.  Restaurants.  Schools.  Whatever.  Yelp offers real insights about all kinds of operations in all kinds of towns all across the country (their site says they're in the UK now, too).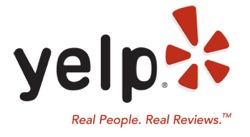 The basic allegations are of extortion and fraud.  The charge: Yelp reps threaten to highlight negative reviews, bury positive reviews, manipulate awards, etc. if you refuse their offers of a couple/few hundred dollars a month of advertising services.  Yelp threatens to make your business look bad, presumably still in customers' own words.  Allegedly.
These allegations are coming from a couple dozen businesses of different kinds in different cities.
Let's assume they've done no such thing, as co-founder and CEO Jeremy Stoppelman suggests in a March 4 blog post.  They've obviously done enough to elicit the appearance of impropriety.
What matters: trust.  There's nothing more important than trust, especially if you're Yelp.
A quick review and analysis of Yelp's tagline:
They trademarked it, so they must care about it
The word "Real" constitutes 50% of it
The opposite of "Real" is "Fake"
They obviously want to distinguish their reviews as credible
Credibility in online reviews is often in question
Why would a company that depends on credibility, authenticity and "real" allow business practices to be sufficiently institutionalized in their culture to find themselves in this position?  If customers have any sense at all that the reviews are dishonest in any way, their entire purpose for using the service evaporates.
And for what?  A little short-term cash?  I know times are tough, but why go to heavy-handed sales tactics that are bound to bite back in the end?  Whatever they gained through these tactics will likely be devoured five or ten fold by newly incurred legal fees.
Even if Yelp successfully defends against the three class-action lawsuits (and no more pop up), the appearance of impropriety threatens fundamentally everything upon which the brand is built.  This is a potentially mortal insult added to the injury of the time and money tied up in legal proceedings.  And they brought it upon themselves.
Legal, operational, image and otherwise … Yelp needs help!