I always knew that I was going to write a book about my experience with simple, personal videos at BombBomb, but I was never clear on the intended audience or exact topic. Telling the story of a software company with which I've experienced +15,000% customer growth and +2,000% employee growth would be interesting. But who would it be for? Fans and friends of the company? Aspiring software moguls? It seemed self-indulgent and presumptuous to write that book.
Then, I hit my 6-year anniversary as a full-time team member, was struck with how far we'd come as a community, and published this blog post in October 2017.
The post was a declaration. An ownership claim. A planted flag.
The "relationships through video" movement is our movement – one we're pioneering with, through, and for our customers. The philosophy and practice of communicating, connecting, and converting more effectively with webcam and smartphone videos in place of plain, typed-out text were created and advanced within our community.
But that avowal was as far as I took it for several months, until I decided to take the ideas in that post, information in hundreds of other blog posts, tips from dozens of webinars and stage presentations, lessons from TEDx and Ignite talks, new research, and various other things I'd learned and shared over the years and … write a book.
As a no-name, first-time author, this was no small undertaking.
Apparently, becoming an author is a common goal, so I thought I'd share some things I learned over the past 18 months from the time I decided to write a book through the first 15,000 copies sold of Rehumanize Your Business, a book I co-authored with my friend Steve Pacinelli.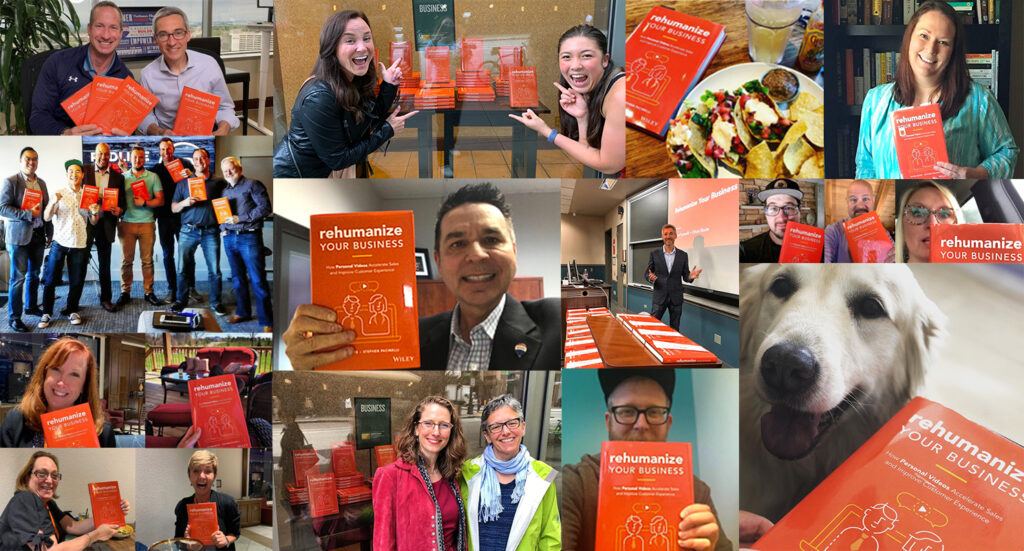 11 Tips to Write a Book
This list is by no means exhaustive. Steve and I learned so much over the past 18 months – too much to share in a single post.
If you want to write a nonfiction book, these tips may be more relevant than if you want to write fiction.
If you want to write a book, these tips may be more relevant than if you want to have one ghostwritten for you.
Whether you want to get a book published or you want to self-publish, these tips should be equally relevant to you.
If your question isn't addressed here or you want more detail on any of these stories or ideas, please reach out to me on LinkedIn and I'll offer what I can!
1:

Find Your Motivation

For me, this one was easy. I've already described it here in this post. It's what drives me every day to show up and bring my best to a team, community, and concept I've been working with for about a decade.

What we've done within our community at BombBomb has changed lives and careers (I know it sounds dramatic, but I've heard it dozens of times) by allowing people to be more personal and human in their business communication. More people should know about the opportunity and have help to get started. Organizing all our best stories, ideas, tips, and guidance into one package is a great way to do that.