Sometimes it's easy to say "yes."
When my long-time friend and mentor Lori Cook introduced me to Christine Feuerstein, the Microsoft sales rep putting together a unique project, committing to earn a commercial driver's license, drive a converted 70-seat school bus thousands of miles, and travel as a software evangelist to more than 20 cities earned an easy, affirmative response.
My undergraduate degree from the University of Michigan was just a year young. I was running shipping and receiving at a faltering business that leased, sold, and serviced copiers and other business machines. I was ready for a first "real" job and for some adventure, something missing in my day-to-day. This assignment was one of the best things that could have happened to me at the time.
I'm glad I shot photos along the way with my 35mm point-and-shoot camera. More than 20 years later, I finally got around to scanning the photos I could find (I know there are many more than you'll see here; I wish I could find them) and thought I'd write this up.
Drop a comment at the end with any feedback or questions about the trip – or about a great job you've enjoyed!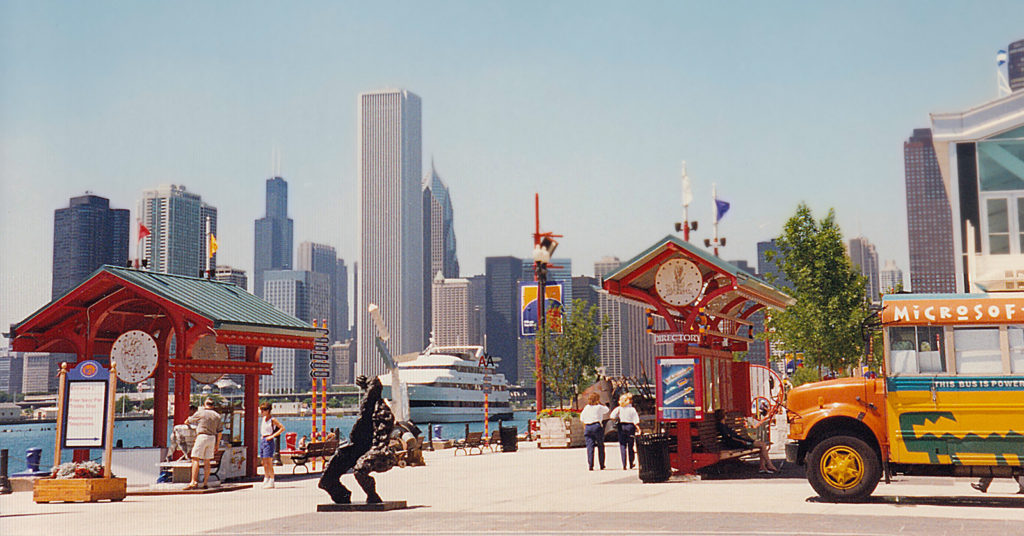 Preparing To Be a Software Evangelist and Bus Driver
For four or five months, I ramped up for this once-in-a-lifetime opportunity by teaching elementary-school-aged children basic programming and software use in one of those learning centers you'd find in an upscale strip mall. Like today's Kumon, but specifically computer-oriented. The year was 1996, so computing was viewed as the "plastics" of The Graduate and a parent would be happy to sign her or his child up for such things.
While I was learning patience and developing teaching skills, I was also building such skills as parallel parking a 35-foot-long school bus. I don't remember the driving tests or licensing process, but it all worked out.
Meanwhile, a clever team was ripping seats out of a school bus, installing a 10-station computer lab that ran off servers in the back, installing an amazing sound system with a marine, multi-disc CD changer, and wrapping the exterior with custom artwork. Many people told me the look reminded them of the Partridge family bus, a reference I didn't understand but accepted as fair. In hindsight, the Microsoft Discovery Bus looked better than theirs.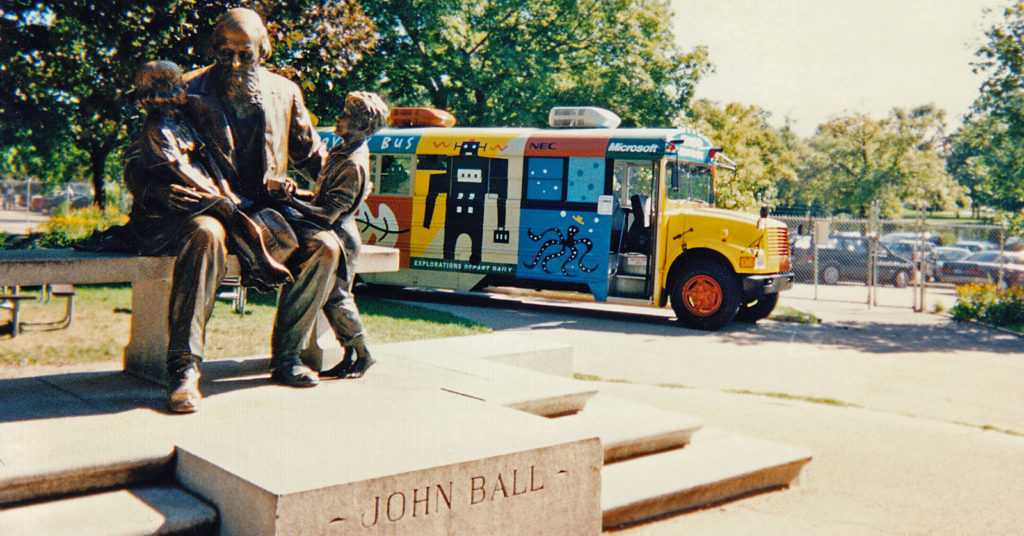 After test-runs in a few locations in my hometown of Grand Rapids, Michigan, I hit the road in August of 1996 with my initial travel partner, Amy Foust, who was with the project for about four or five months before bowing out, at which time I was solo for a spell. I had a nice woman named Rilla join me for a month or so before traveling solo again. I finished the last few months of the trip with Mark Williams, who'd supported Christine's Microsoft efforts in the metro Detroit area.
The travel went something like this: out on the road for two weeks, back home for a few days, out for a month, off for a week and a half, out for three weeks, off for a week, and on. When I was back in Grand Rapids, the bus would get proper maintenance both under the hood and inside the computer lab.
Cities I Visited with the Microsoft Discovery Bus

Christine got buy-in from the Central Region of Microsoft, so the tour included all the major cities from Toronto and Ottawa, Ontario down through Dallas, Houston, and San Antonio, Texas.

Here's the full list (to the best of my memory):
Minneapolis, MN
Chicago, IL
Milwaukee, WI
Madison, WI
Detroit, MI
Cleveland, OH
Cincinnati, OH
Columbus, OH
Indianapolis, IN
Nashville, TN
Louisville, KY
Wichita, KS
Kansas City, KS/MO
St Louis, MO
Tulsa, OK
Oklahoma City, OK
San Antonio, TX
Austin, TX
Dallas, TX
Houston, TX
Toronto, ON
Ottawa, ON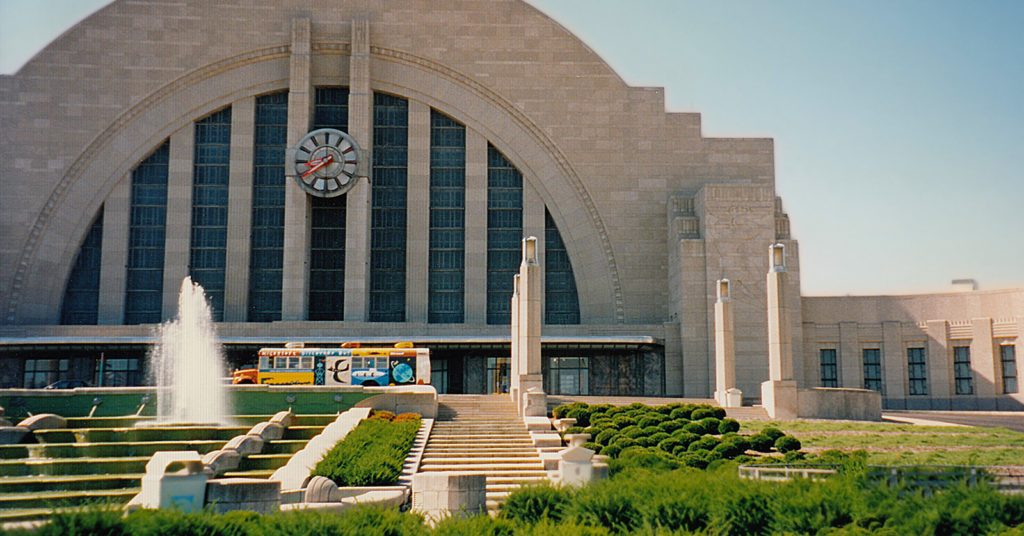 Types of Venues We Visited
Each Microsoft regional sales representative knew the dates the bus would be available for him or her. I'd show up in their city, connect with him or her, and learn what they had planned for the next few days or even next couple weeks.
Most often, I visited:
Retailers like Best Buy, Media Play, and CompUSA
Schools, museums, zoos, and other kid-friendly places
Fairs, festivals, parks, and outdoor events
Be sure to check out the fourth image directly below to see one of the best spots I got to park the bus and host visitors.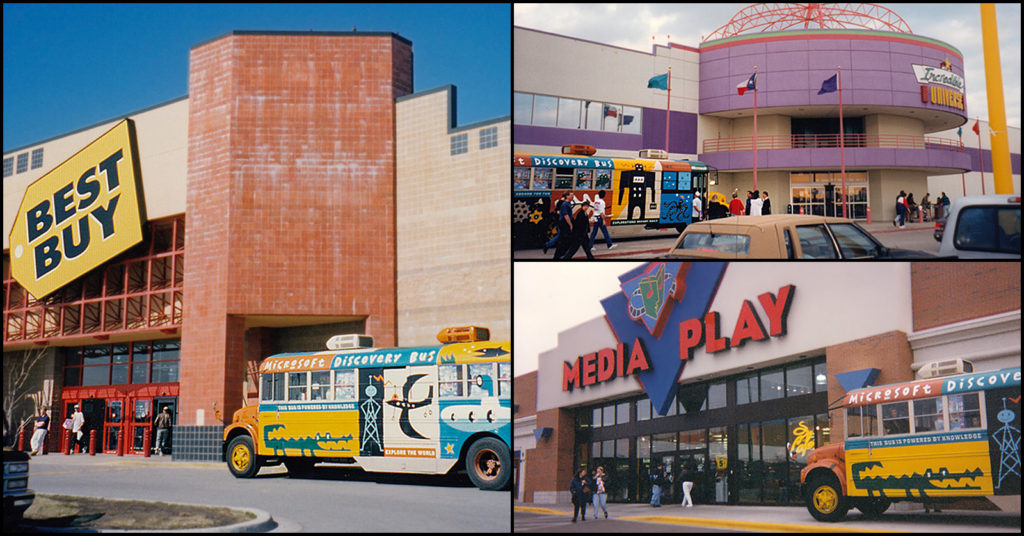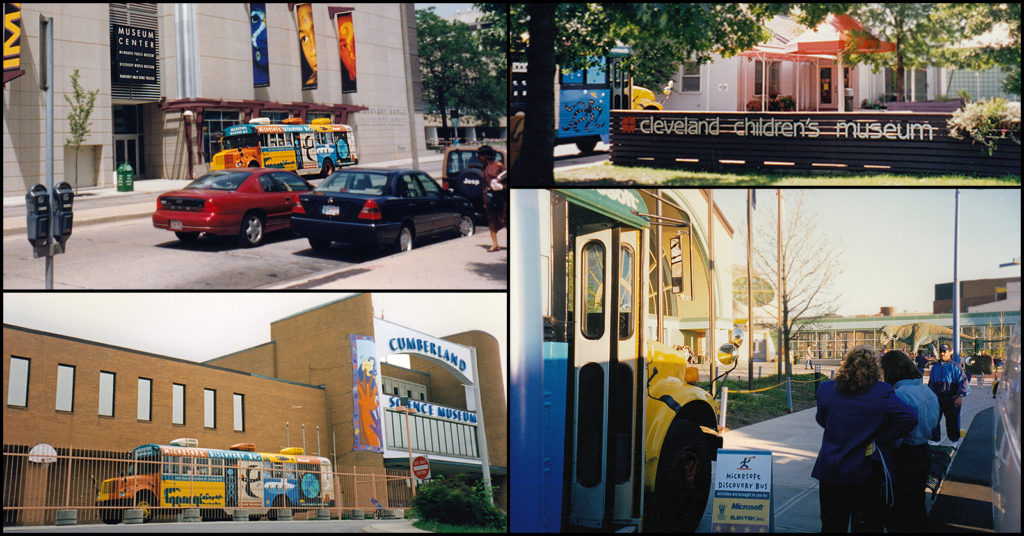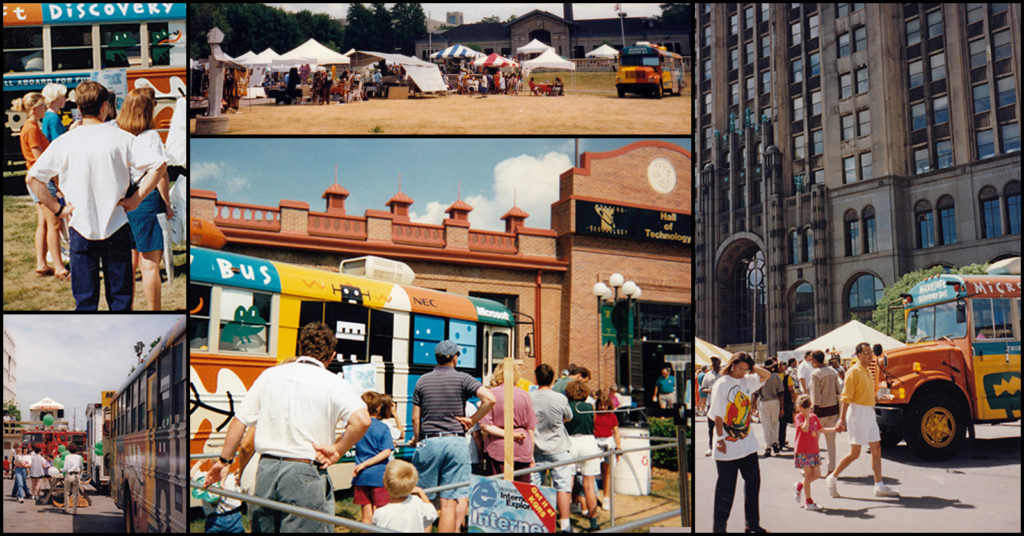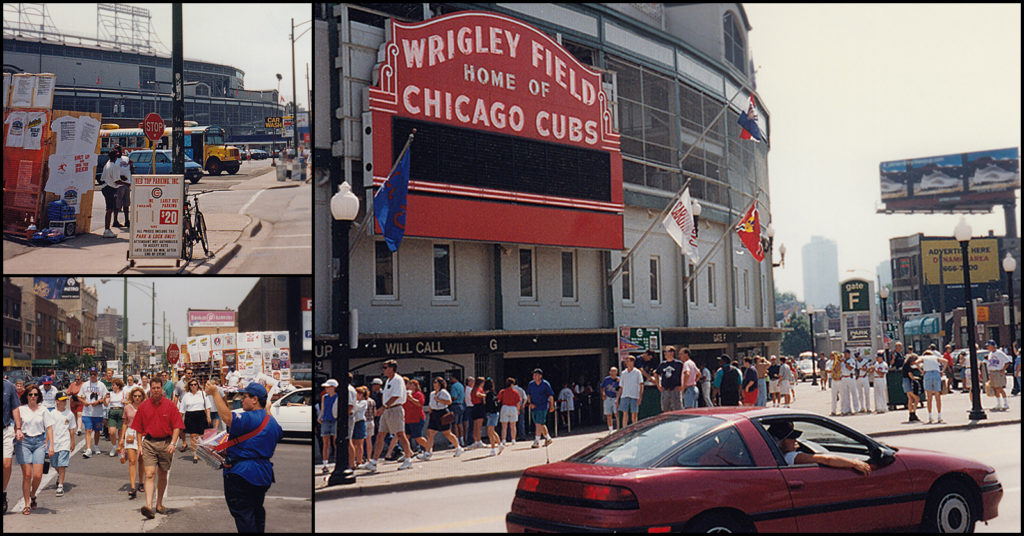 Hardware and Software On Board
Though I taught Windows 95 and Microsoft Office titles to working professionals, children and families were our primary audience. So, we led with Microsoft Encarta (encyclopedia and atlas) and the Magic School Bus series, including the Ocean, Human Body, and Age of Dinosaurs.
The most popular offering was Monster Truck Madness, the only networked game that allowed everyone on board to race against each other simultaneously. We also offered The Neverhood, Microsoft's new, long-play adventure game that didn't translate well to a 10- or 15-minute visit on the Discovery Bus. We also had several other programs aboard like the Flight Simulator, Golf, and many more that I don't remember.
From a hardware standpoint, we had all the newest devices, including the ergonomic keyboard, the trackball, and the most deluxe joystick I'd ever seen (Microsoft Sidewinder 3D Pro).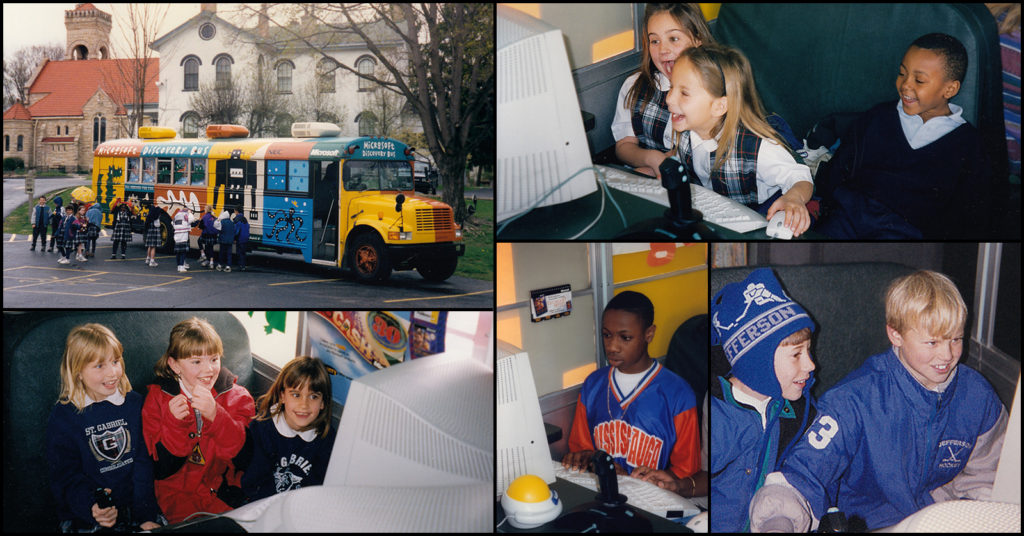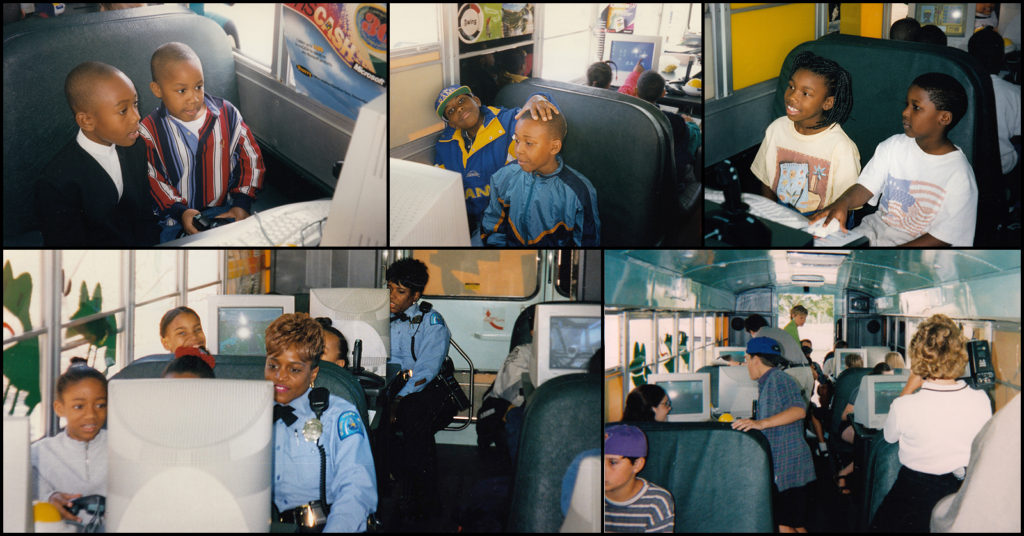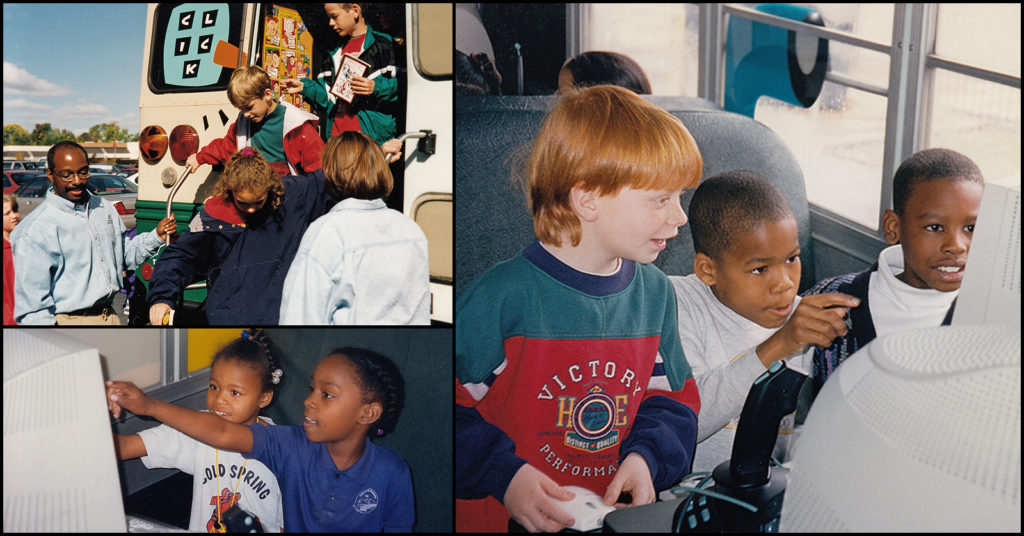 Evangelism Needs Media Coverage
Though they have obvious religious connotations, the words evangelist, evangelism, and evangelize involve bringing good news of any kind. I think of a software evangelist as an enthusiastic messenger and communicator.
In addition to securing venues for their market visit by the Microsoft Discovery Bus, the best Microsoft sales reps secured media coverage. I couldn't find any of it online, but newspapers, radio, and television all came out for this story. It was new, colorful, fun, and inherently visual.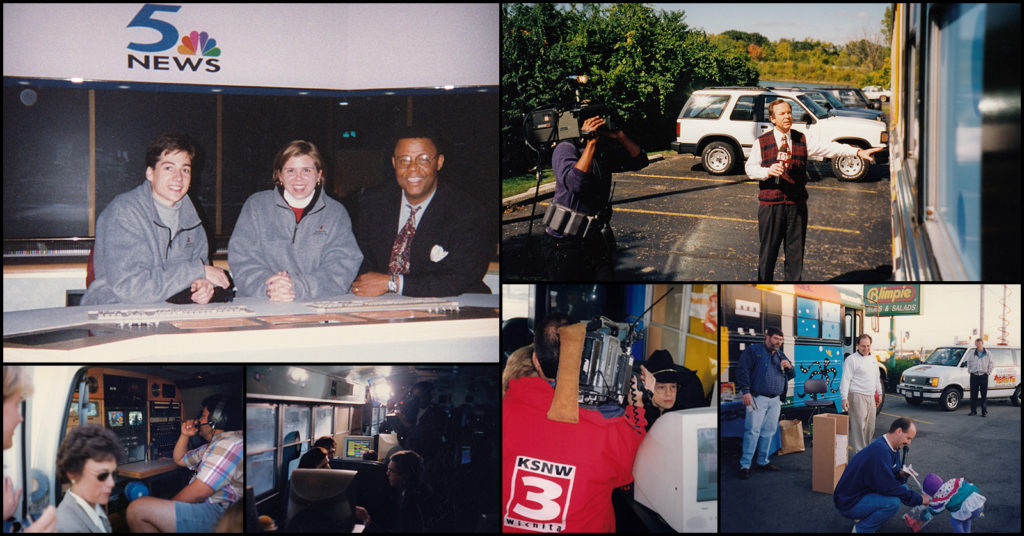 Benefits of Being on the Road
Not only did I have downtime at home between two-to-four-week road trips, I also enjoyed downtime in new cities.
I was running 20 or 25 miles a week at the time, so that gave me a great way to see and experience all the new places I was visiting. I used Microsoft Streets to map my runs.
I also had a habit of opening up the phone book in my hotel room and finding the neighborhoods with record stores, bookstores, coffee shops, and natural food stores. When you find these things within a couple blocks of each other, you know you've found a good neighborhood. I found myself at several natural food stores and co-ops; this initiated my understanding of industrialized farming and set me on the vegetarian path that I'm on today.

A few live music performances I enjoyed:
Milt Jackson at the Serengeti Ballroom in Detroit (just a couple years before his passing)
Sebadoh at some dive in Lawrence, Kansas (in support of Harmacy, though Bake Sale is a better album)
Tortoise at Lee's Palace in Toronto (in support of Millions Now Living Will Never Die with previews of TNT)
A few live sporting events I enjoyed:
Allen Iverson going for 36 points and 11 assists in his rookie season (Philadelphia 76ers at Dallas Mavericks, box score here)
Buying a single, scalped ticket for one-third of face value in front of the Alamodome to see Mitch Richmond and Olden Polynice lead the Sacramento Kings over the San Antonio Spurs (Dominique Wilkins with 13 off the bench)
Seeing Roger Clemens pitch for the Toronto Blue Jays (pictured below)
A few other notes:
I walked into a Michael Moore book reading and signing in support of Downsize This! at a Barnes & Noble (pictured below).
I enjoyed several art museums, most notably the Nelson-Atkins in Kansas City.
Our local hosts often took us to dinner or other spots, like the National Cowboy and Western Heritage Museum (pictured below).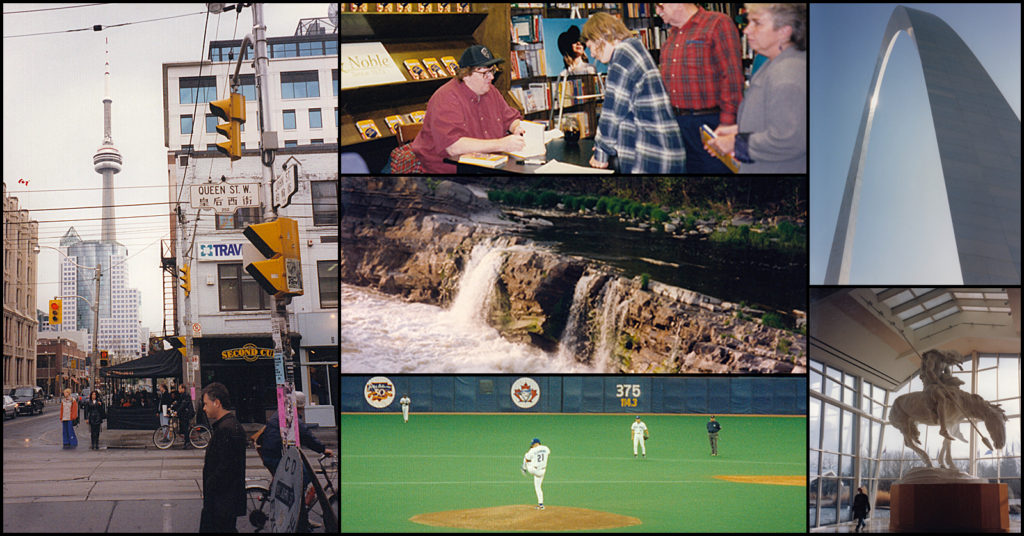 Challenges of a Software Evangelist
Challenges are growth opportunities and, as I wrote in the opening, they were exactly what I needed. They included:
Fielding questions from hardcore Microsoft fans that I couldn't answer. Occasional response: I didn't deserve to wear the logo.
Fielding feedback from angry, frustrated, or confused Microsoft customers. Problem: I was easier to access (and to berate) than a technical support line, but I had no technical background or training.
Navigating the central region of the US and Canada without mobile internet. My approach: studying maps I picked up from AAA prior to each leg of the journey. This was especially difficult when traveling solo.
Getting on the interstate and realizing your next move is a left exit that requires getting across four lanes of traffic in a mile and a half (happened to me in Houston).
Living in a hotel room.
Cleaning the bus by hand, since a power washer could rip the graphics off. Below: see a team effort to spot-clean the exterior.
Finding a tow truck for a full-sized school bus (can't remember where the bus broke down, but it made for a long day).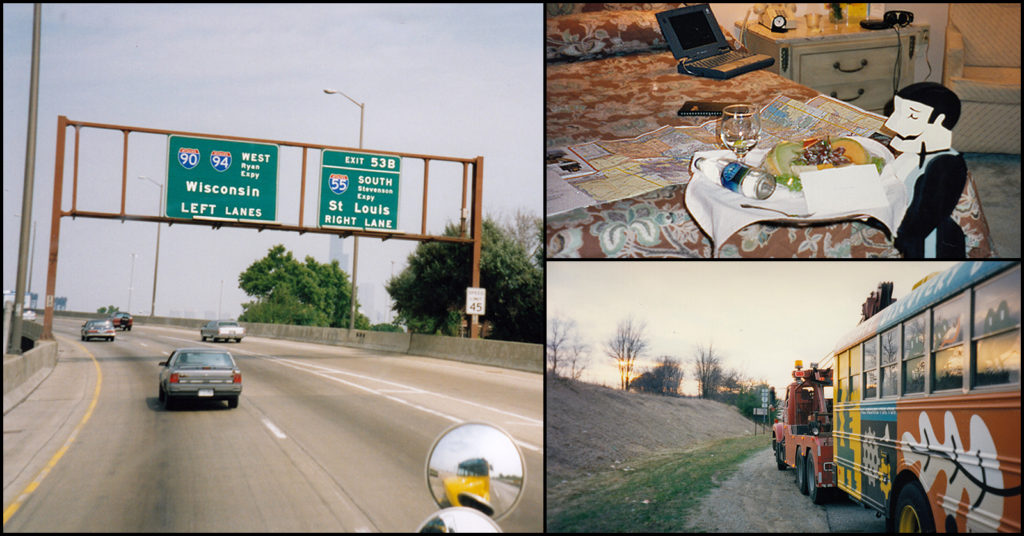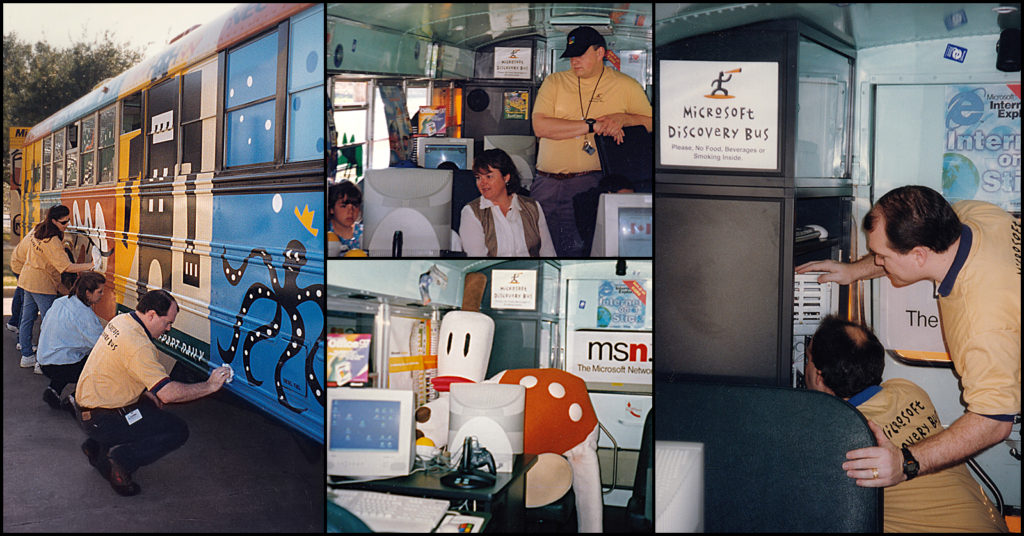 Final Thoughts
I got paid $10 per hour as a contract employee (inflation adjusted from 1996 to 2019: about $16 per hour) and I fronted all my own expenses (at one point I was owed more than $6,000), but it was still an easy "yes." The Central Region didn't renew the project, but I'd have said "yes" to another year of it.
Though I've found deeper satisfaction in other roles in my career, I'll always look back on this as the best job I ever had – and my first "real" job.
Any thoughts or questions about this journey?
Any thoughts on your best job?
Drop a comment below!