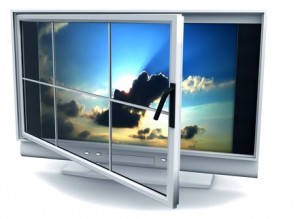 In advance of a significant broadband announcement ($25B in new spending) by the Federal Communications Commission, a former FCC Chairman, Reed Hundt, delivered a speech at Columbia Business School that he titled "The End of Broadcasting."
I read about the speech at TVNewsCheck.com and began to watch it on Columbia's website.  It seems Columbia's site or server can't support the traffic, so the speech is basically unwatchable.  This post, then, is informed by the first 20 minutes of the speech I endured on first go and Harry A. Jessell's analysis of it.  I expect to edit this post once I'm able to view the entire speech.
In this speech, Hundt argues that every nation needs a "common medium" with the following characteristics:
Reaches 100% of citizens
Is easy and customary for 100% of citizens to use
Is culturally accessible (in common languages)
Is open to participation
Is good for business
Is full of "news" and is sufficiently "local" in its manifestation
Is owned privately, not publicly
Provides to the government access to the citizens
According to Hundt, the FCC began the policy of favoring the internet over broadcasting as the nation's one common medium as far back as the period 1994-1997.  Interestingly, Hundt described this as a "confession or admission," from which I infer a heretofore duplicitous stance.
A couple examples of broadcasting being disfavored by Hundt's FCC:
"This is a little naughty: We delayed the transition to HDTV and fought a big battle against the whole idea"  (Ethan: why!?  HDTV is gorgeous and beloved)
It was "simply astonishing" to Hundt that the government continued to promote broadcasting by subsidizing converter boxes for consumers in the analog-to-digital transition – "Those people would have been much better off getting a voucher for broadband internet subscriptions"  (Ethan: completely ludicrous, more below)
I consider this visionary policy.  I don't know if you were using the internet between 1994 and 1997, but to call the experience "lacking" would be kin to calling water "wet."  For a government agency to recognize the value and benefit of the internet at that point is praiseworthy.
I absolutely accept that the internet has infinitely more potential as a valuable information medium in the long term than broadcasting.  Per Hundt's criteria above, the internet trumps broadcasting in openness to participation, facilitation of commerce and pin-point localism.
What I reject outright is the premise that a nation needs just one common medium.  In Jessell's words, "what would you rather have, the best broadcasting system in the world or the best broadband system.  My answer: both."  Agreed!  As I'll continue to argue, broadcasting and broadband are unique and complementary.
Also, support of one medium (broadband) should not require the suppression of the other (broadcasting). However, Hundt suggests a nation is going to choose just one "because government in any country wants a way to reach everybody.  It will encourage it and promote it up to some level."  I'll ignore the Orwellian overtones and suggest that internet and broadcasting should be understood, appreciated and treated as unique and complementary media.  Two recent illustrations and an anecdote:
I also reject that the internet is superior for access and ease of use.  Let's start with Hundt's converter box line to tear this one down.  The FCC mandated that television stations kill off analog broadcasting in favor of digital.  The transition was extremely costly for broadcasters, though it cleared real estate in the spectrum that the government auctioned off for nearly 20 billions of dollars and dramatically improved the quality of broadcasters' signals.
To aid in the transition, our federal government provided $40 vouchers upon citizen request to be used for the purchase of digital converter boxes so an old analog TV would still work in the all-digital broadcasting future (now present).  To suggest, as Hundt did, that "those people" (read: older, poorer) would be better off getting "a voucher for broadband internet subscriptions" is completely ludicrous.  In my world, $40 buys you ONE MONTH of broadband access.  In many cases $40 covered the entire cost of a converter box, which is useful indefinitely.
That's just access.  Now, consider ease of use.  As a blog reader, you probably take for granted how easy it is to get online.  Have you spoken with someone who's old or poor about selecting and purchasing a computer or setting up and paying for a broadband subscription?  Have you seen the line at your local library to get online?  Meanwhile, a television or radio can be cheaply purchased and simply powered on.  Whoever does so has immediate access to emergency information.
Let's just pretend that the government's need to access 100% of people is based in the dissemination of emergency information.  At present, clear protocols and enforceable requirements are in place for broadcasters to support these efforts (Emergency Alert System).  Should not the effective use of this system be properly credited and indefinitely employed by the agency which mandated it into being?
In conclusion:
I support government efforts to encourage and promote broadband access; I'm very curious to learn the details of the FCC's imminent broadband announcement.
I look forward to the day that broadband internet provides 100% reach to American households at an extremely inexpensive price.
Internet and broadcasting are unique and complementary media.
In the near to medium term, broadcasting is less expensive and easier to use for more Americans.
This is an extremely complex set of ideas.  Among the related topics that could be explored:  mobile TV by way of traditional broadcasting and mainstream media as the foundation for a significant share of searches and social exchanges online.
Because nothing even close to a dollar-for-dollar, online-to-traditional model to support journalism exists, a threat to broadcasting remains a threat to journalism.  Call me old-fashioned, but I consider journalism a necessary precursor to some semblance of democracy.
Agencies of our government are busy determining your future.  To the degree you're uninformed or disengaged, they're doing it without you.  If you don't care about broadcasting and broadband, think about those things that do matter to you.
Worth noting:
We do not pay for television at our house.  We use an antenna and a 32″ HDTV to enjoy the cleanest, highest-quality pictures and sound available from several local broadcasters.
We pay $37/month for moderate-quality internet access (Qwest DSL).
Interesting fact:
Related links: