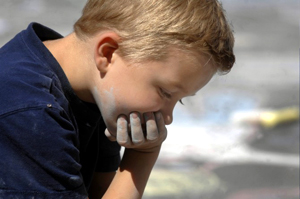 This 4-year-old's name is Ethan Beute.  He lives in Grand Rapids, Michigan.  This photo of him was published to the Grand Rapids Press website earlier this year.
Coincidentally, my name is Ethan Beute and I lived in Grand Rapids, Michigan for at least 20 years of my life.  I would add that he looks a little bit like I did as a child.
The day a friend of mine posted this as a link on my Facebook page, I knew I had to buy ethanbeute.com.  What parent of an Ethan Beute wouldn't want to give his or her child ownership rights to  "ethanbeute.com" as a fifth birthday gift!?  A stretch, I know, but I didn't want to risk it.
With regard to my surname, my wife and I were the only "Beute" in the Chicago phone book for the 4 years we lived there.  When I witnessed a child with my name living in my hometown, however, I knew that I had to claim my online real estate immediately.
I'm Ethan Beute on Facebook and LinkedIn.  I'm ethanbeute on Twitter and Flickr.  As a natural extension of my personal brand, ethanbeute.com is the only way to go.
Claiming a url is a simple process; my technical knowledge and skills are limited, yet I had no problem doing it.  I used GoDaddy.com and paid $10/year for the rights.  I set it up to redirect to this blog site.
I have no idea where all this is going – and by "all this" I mean life online in a very general sense.  I do know that I need to be easily found online.  This online presence is necessary if I'm to have any future in promotion, marketing, and branding.
Recommendation: consider your personal brand.  As a primer, here's a years-old article from Fast Company (1997!) from the exceptional business mind of Tom Peters (yes, that's a link to tompeters.com).