"We have three general guidelines for all promotional efforts by Patagonia, both within and beyond the pages of the catalog:
Our charter is to inspire and educate rather than promote.
We would rather earn credibility than buy it. The best resources for us are the word-of-mouth recommendation from a friend or favorable comments in the press.
We advertise only as a last resort."
Written by Patagonia's founder Yvon Chouinard and quoted from page 155 of Let My People Go Surfing: The Education of a Reluctant Businessman, these words set up a strong content marketing approach.
Part book review and part illustration of content marketing, this post breaks down the why and what of a beautiful, 68-page print catalog recently delivered to our home by the United States Postal Service.

Worth noting: I'm fairly certain Chouinard's book doesn't include the word "marketing" in any context.
What Is Content Marketing?
"Content marketing: Brands telling stories to attract and retain customers."
This text opens a great video from the Content Marketing Institute running down the history of content marketing.
Click here to learn the distinction between content marketing and inbound marketing – with that video embedded in the page (the music's bad, but the structure and info are great).
The original example in the video: The Furrow, a magazine started by John Deere Equipment in 1895.
A recent example that inspired this post: Patagonia's current catalog, delivered in October 2015.
Patagonia Philosophies
My initial interest in Patagonia as a brand was lit by reading The Responsible Company in 2012. A year ago, when I found a used copy of Let My People Go Surfing at a neighborhood bookstore, I picked it up immediately.
More than half of the book lays out the Philosophies behind the company.
Product Design Philosophy: "Make the best product, cause no unnecessary harm"
Production Philosophy
Involve the Designer with the Producer
Develop Long-term Relationships with Suppliers and Contractors
Weigh Quality First, Against On-Time Delivery and Low Cost
Go for It, but Do Your Homework
Measure Twice, Cut Once
Borrow Ideas from Other Disciplines
Financial, Human Resources, Management, Environmental – each gets smart, substantial, and useful rundown.
Where I'm focused here: Distribution and Image Philosophies. I'll tie them together, as the catalog is born at their intersection.
Distribution and Image Philosophy
Written like a "confirmed Luddite" and "nonuser of computers" (as Chouinard describes himself on p 134) …
"The mail-order catalog has always been our 'soapbox' and enables us to transmit information about Patagonia's philosophies and products directly to people's homes and businesses anywhere in the world." (p 129)
Chouinard's employed mail-order catalogs going back to the 1950's. Of course, Patagonia uses retail, wholesale, and the internet, as well – but the catalog is at the core.
"The catalog is our bible for each selling season. Every other medium we use to tell our story – from the website, to hang tags, to retail displays, to press releases, to videos – builds from the catalog's base and from its pictorial and editorial standards." (p 150)
The heart and mind of the company, then, is made clear on those pages. Here are two additional, powerful takes on the why and what of the Patagonia catalog from the Distribution and Image philosophies, respectively.
"My first principle of mail order argues that 'selling' ourselves and our philosophy is equally important to selling product. Telling the Patagonia story and educating the Patagonia customer on layering systems, on environmental issues, and on the business itself are as much the catalog's mission as is selling the products. This has several practical implications, including how we measure the success of a catalog, how we format the information, and how we allocate space. Above its value as a sales tool, the catalog is first of all an image piece, presenting the company's values and obligations." (p 129)
"The first goal of the catalog is to share and encourage a particular philosophy of life, of what undergirds the image. The basic tenets of that philosophy are: a deep appreciation for the environment and a strong motivation to help solve the environmental crisis; a passionate love for the natural world; a healthy skepticism toward authority; a love for difficult, human-powered sports that require practice and mastery; a disdain for motorized sports like snowmobiling or jet skiing; a bias for whacko, often self-deprecating humor; a respect for real adventure (defined best as a journey from which you may not come back alive – and certainly not as the same person); a taste for real adventure; and a belief that less is more (in design and in consumption)." (p 150)
When I read about the catalog's primacy and felt the passion behind it, I looked to my mailbox for the next arrival. What seems to be the winter catalog showed up earlier this week. Did it deliver?
The Patagonia Catalog – Winter 2015 – Keep Jumbo Wild
The cover of this 68-pager is at the top of this post. Immediately inside after the first page turn: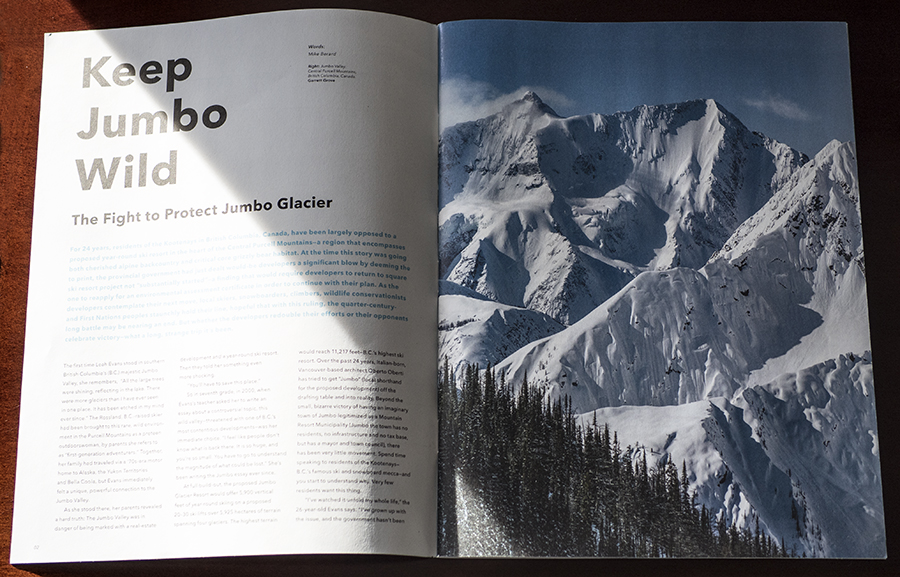 The first eight pages, including the two pictured above, are about the fight to protect Jumbo Glacier in the Jumbo Valley of British Columbia, Canada from being developed.
For context: "'There are so many reasons to oppose the Jumbo Glacier Resort,' says Wildsight Executive Director Robyn Duncan: 'the threat to grizzly bears, a glacial water supply, the fact that the area doesn't need another ski hill, the desecration of sacred First Nations territory and the end run around the democratic process. We're united in our deep sense of place and our commitment to keep Jumbo wild.'"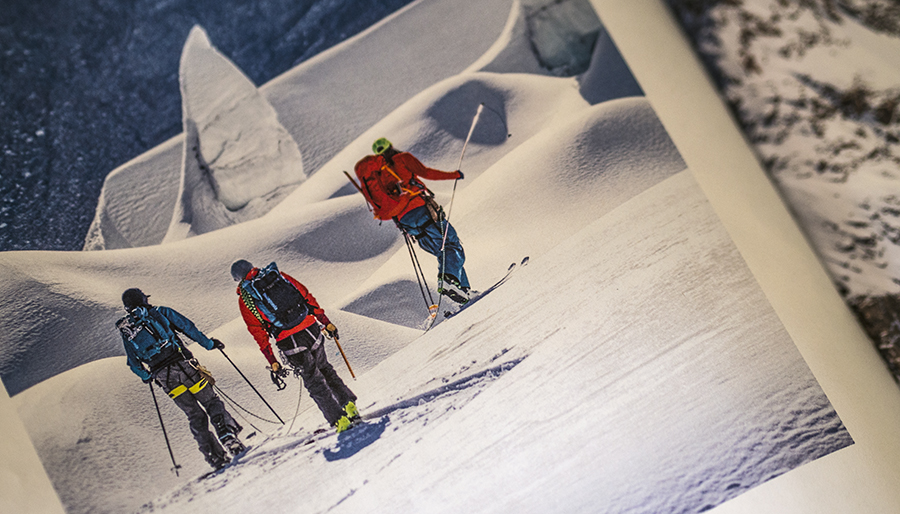 In addition to the cover and the feature story:
16 pages of photos shot in and around Jumbo Valley (example above)
One page featuring a film about the Jumbo Wild movement (shown below)
Four page story in which "two skiers talk about wild places, community, and defending the mountains that move them"
Two page closing feature of "American Dave" Rosenbarger, "one of the world's preeminent ski mountaineers" who died earlier this year in an Italian avalanche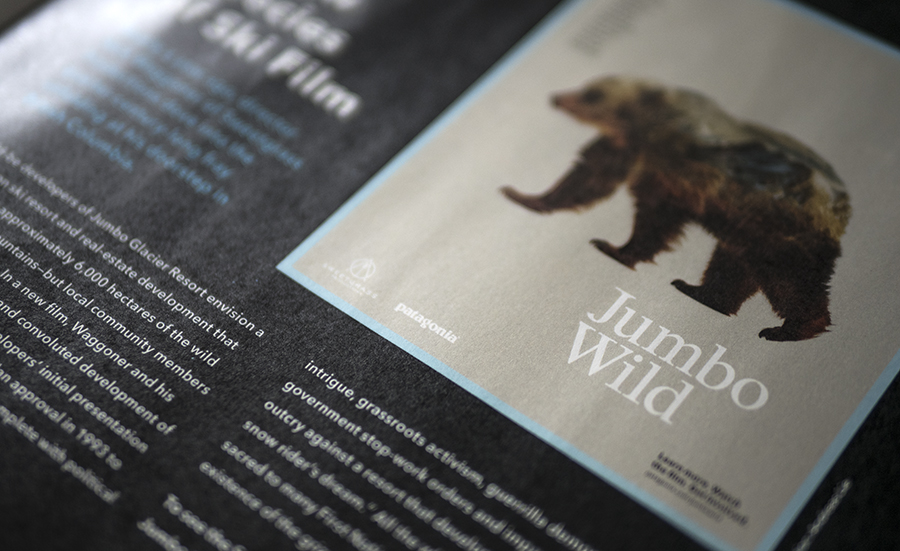 At 32 total pages, the Jumbo Wild theme comprises nearly half of the catalog (47%). And, of course, that theme beautifully sets up all the winter gear for sale, including the Backcountry Touring line.
Consistent with Chouinard's espoused philosophy, many of the photo captions and each product category introduction had clear educational intent and high editorial standards.
Also consistent: the Patagonia.com homepage leads with Jumbo Wild, as well.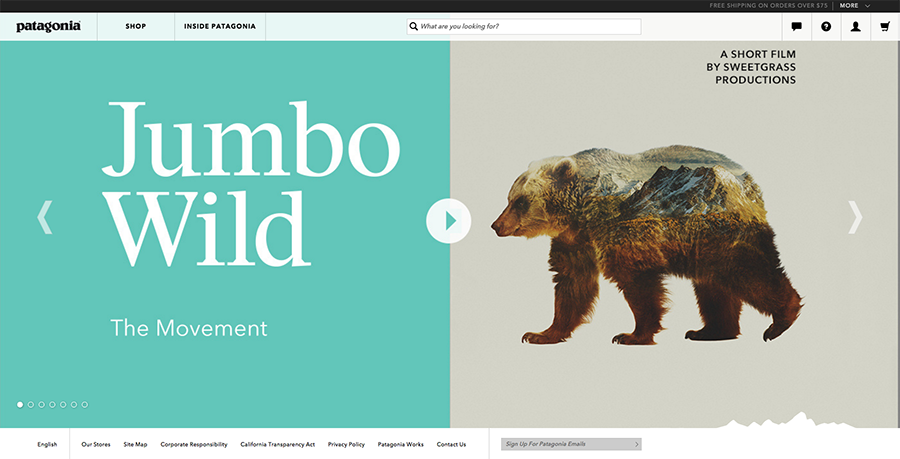 Real adventure. Environmental activism. Substantial storytelling.
It's all aligned here.
To Conclude
Though it doesn't seem as directly sales-oriented as the CMI's definition of content marketing, the Patagonia catalog illustrates Chouinard's Philosophies (as written a decade ago) and stands as a classic and current example of a brand "telling stories to attract and retain customers."
Also: this strategy is fully and properly integrated. I've seen the theme in emails and on social. I expect I'd see or feel similar touches in-store, as well.
Finally: I highly recommend Let My People Go Surfing as a "business" book. The first 80 pages or so contain company history and set up a couple hundred pages of Philosophies. It reads quickly and clearly. Get a sense of it by watching this.
More Posts Based on Books
Nature Dependent: Primary Goods & The Primary Economy
Sustainability: 10 Great Books on People, Nature, & Business
3 Memorable Moments in Zillow Talk
More About Patagonia
Environmental & Social Responsibility