Last week, I enjoyed the privilege of seeing Tom Ferry interview Spencer Rascoff on several topics, including Zillow Talk, a just-released book he co-wrote with Stan Humphries.
Ferry's a foremost educator and coach serving the real estate industry. Rascoff is founder & CEO of Zillow, where Humphries serves as Chief Economist. Rascoff and Humphries connected while they were with Hotwire and Expedia, respectively, at the time the travel companies merged.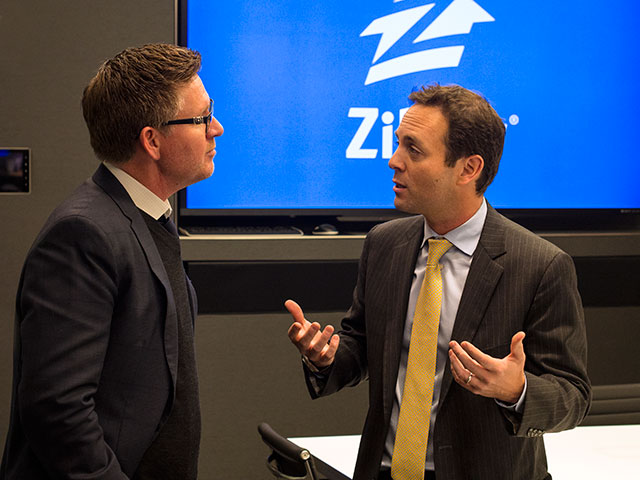 For an upcoming episode of the #TomFerryShow, Ferry talked with Rascoff at a Zillow party at the Nasdaq Marketsite on Times Square as part of Inman Connect New York.
Though Rascoff signed and gave away copies of the book during the event, I'd bought mine on Amazon and read it on the flight out to New York City from Denver. Glad to have read it, the book came to life a bit more through this in-person experience.
Zillow Talk is a fast, fun, entertaining, and interesting read. I'd recommend it to anyone interested in residential real estate to any degree, anyone who's bought or sold property – or plans to, and anyone interested in the intersection of data and human behavior.
I enjoyed very much about the book, but I'll share thoughts on just 3 aspects of my experience with it.
3 Memorable Moments in Zillow Talk
1. Zillow as Portmanteau
A portmanteau blends the sounds and meanings of two words into a new word. A blend of "zillions" and "pillows," the company name Zillow is one such word. Zillions represents the data-informed aspect of the service, while pillows represents our homes, the places we retire for the evening.
I'm a pretty big fan of words and language, so portmaneau was interesting in its own right. I knew, for example, that smoke and fog make "smog," but I'd never had a name for it. Now … portmanteau!
I'd also not heard the origin story for the company name. Read this quick passage for yourself on page 14.
2. David Foster Wallace on Pants
A terrific analogy was employed between mortgages as viewed by Rascoff and Humphries and pants as viewed by writer David Foster Wallace.
Chapter 7's clever title? "ARMS and Legs."
They quote Wallace's take on the male obligation to wear pants rather than skirts or other culturally untenable options. They're a given, but only because of "archaic custom" and despite the fact that they're "incommodious," "illogical," and "restrictive." The full take on men in pants on page 71 is worth a look.
"Are thirty-year FRMs (fixed rate mortgages) the men's trousers of American real estate?" is asked just a page later. Throughout the chapter, the writers proceed to lay out the history and custom of the FRM.
Consistent with the rest of the book, ARMs and Legs provided a quick, fun, and interesting read. Its conclusion (on page 80): "Don't assume an FRM is the best choice for you just because conventional wisdom says, 'that's how it's always been done.'"
3. Regressive Nature of Mortgage Interest Deduction
If you don't work in or adjacent to the real estate industry, you may be surprised to learn that Zillow provokes anxiety and animosity among many real estate professionals. That's all too much to take on right here, but know that much of Chapter 17 is devoted to the importance and value of real estate agents.
The anxious and suspicious, though, won't be placated for long, as Chapters 24 and 25 take on government involvement in the real estate markets. Chapter 25's go at the regressive nature of the MID (mortgage insurance deduction) was particularly engaging. I wasn't familiar with its history; that alone is worth the read. But there's more …
Quick take from page 236: "the federal government is spending $100 billion every year to help Americans who live in almost million dollar homes!" The full argument unfolds over several pages and it's absolutely worth a read, no matter the side of the issue on which you think you might fall.
This is, of course, very politically charged. Rascoff and Humphries are taking on the positions and efforts of the National Association of Realtors. Support of the MID is seen as patriotic support of "the American dream" itself.
The authors, the book, and the company, though, repeatedly encourage people to follow the data to make informed decisions. They also champion transparency, both practically and ideally.
The Bottom Line
These are just 3 moments in my experience reading the book that stood out after I'd put it down. Zillow Talk is packed with interesting passages, helpful insights, surprising outcomes, and other delights. See my recommendation for the book above. Learn more about the book right here.
Note
I attended Inman Connect in New York and the Zillow event at the Nasdaq as a member of the team at BombBomb, a software company that makes it easy to use simple videos to build relationships. With real estate as a relationship- and referral-based business, many real estate professionals subscribe to our service.
As with social media channels, this blog is employed to reflect my personal experiences, ideas, and opinions.
Related Links
Video from ICNY:
RE/MAX Founder & CEO Dave Liniger on Zillow, Trulia, and Real Estate Advertising
Video from ICNY:
NewsCorp Founder, Chairman, & CEO Rupert Murdoch's 4 Reasons Realtor.com was the Right Acquisition
BombBomb Blog & Video:
Takeaways from the Zillow Select Summit in Colorado Springs