Bastardizing Dan Pink's elegant 1-3-5 opening keynote structure at Authority Rainmaker 2015 … my 1-3-9-12 review of the online marketing conference.
Pink: 1 insight, 3 principles, 5 takeaways
Me: 1 recommendation, 3 reasons, 9 themes, 12 quotes
(yes, I'm willing to break the triad)
Subtitled "Integrated Content, Search, and Social Media Marketing (Plus Invaluable Networking)," Authority Rainmaker is Copyblogger's (now annual!?) online marketing conference.
I enjoyed the privilege of attending thanks to BombBomb | Relationships Through Video.
To organize my own thoughts (initially captured in 20+ pages of handwritten notes) and to provide a necessarily pale representation of a truly wonderful event (like trying to capture a spectacular sunrise on a spectacular landscape with a photo), my 1-3-9-12 review …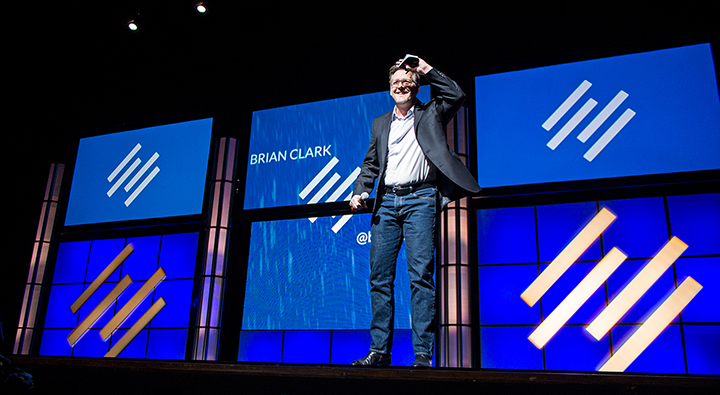 (Brian Clark tries to look through the lights)
1 Recommendation
Attend this event. If any of the words in the subtitle above excite you in any way, attend this event.
It's not a workshop, so don't expect hands-on work or deep detail. Do, though, expect heavy doses of inspiration and information – punctuated by extensive conversation and networking with good and smart people.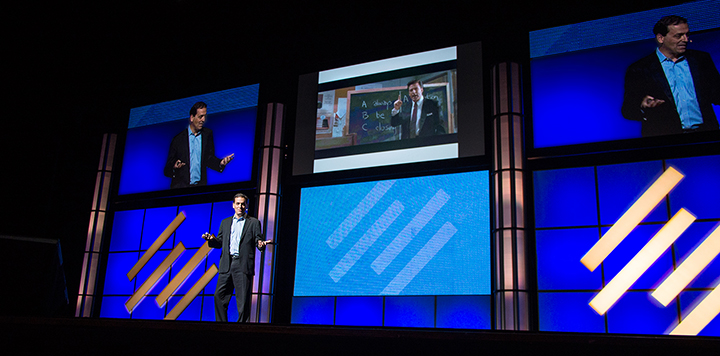 (Dan Pink talks through "To Sell Is Human")
3 Reasons
1. Great Speakers

The quality and sequence of the presentations paid in full.

And the access to the speakers was fantastic; I enjoyed conversations with Brian Clark, Ann Handley, Chris Brogan, Mike King, Danny Sullivan, and Henry Rollins. Nearly every speaker was open and available on the breaks, at lunch, and during evening events.

2. Great Community

If you want to be in inspired and inspiring company, connect with the Rainmaker community.

Though I didn't expect to know anyone there, I reconnected with several friends and customers (Ricardo, Clark, Tracy, Audrey, Leanne, Scott).

And, as expected, I enjoyed dozens of conversations with smart people working on all kinds of projects (Jeffrey, Sarah, Don, Sonya, Kurt, Logan, Sheri, Zach, Kane).

And it's a tight group – about 400 people or so. So you'll connect with people one day and chat them up again the next.

3. Great Venue

The Ellie Caulkins Opera House? Nice! This is an absolute gem in the Performing Arts Complex in downtown Denver. And you've within walking distance of many great spots.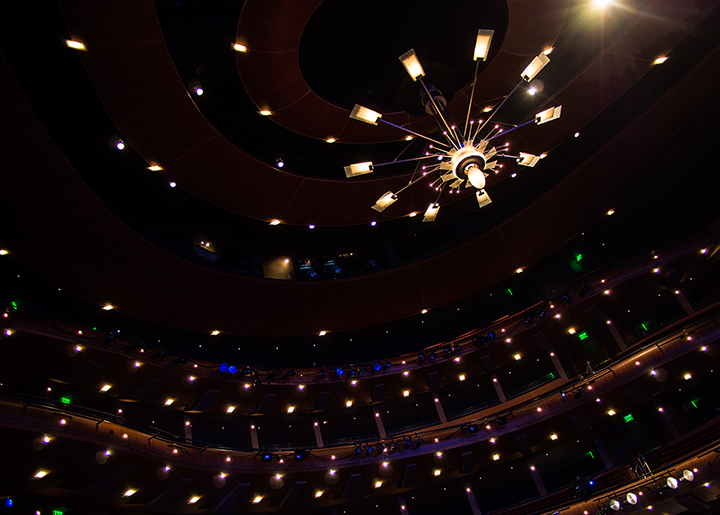 (Lights at the Ellie Caulkins Opera House)
9 Themes
The challenge of boiling down pages of notes into specific takeaways seemed too much. Instead, themes. They emerged naturally. They bled together. Here, a set whose quantity is divisible by 3, because that felt right.
1. Human

Dan Pink, Chris Brogan, Pamela Wilson, and several others all touched on the human aspect of communication, content, and design. This word bubbled up noticeably over the past few years and was heard throughout the conference. I see this as basic Golden Rule consideration in everything you do.

2. Empathy

Specifically: pathological empathy for the people in your audience. The first time this struck me was in Ann Handley's Everybody Writes. She touched on it here, as did Bernadette Jiwa, Mike King, Pamela Wilson, and others. Employ compassion and understanding to inform and guide the customer journey.

3. Clarity

Clarity in thought. Clarity in writing. Clarity in calls to action. Improve your results by making easier through simplicity and clarity. Sonia Simone, Dan Pink, and Sean D'Souza all folded this into their presentations.

4. Difference

Your difference is in your expertise. Your expertise provides your highest value. Sally Hogshead and Sean D'Souza came at this from different angles, but arrived at the same point as many other speakers. Kin: Voice.

5. Voice

Ann Handley and Joe Pulizzi described this as brand voice and tilt, respectively. From Handley, the presence of culture, story, and empathy produce a unique voice. From Pulizzi, you must advance beyond the intersection knowledge and passion to a content tilt, a unique viewpoint or approach to otherwise well tread topics. Think: editorial mission statement – you need one. Kin: Difference.


(Ann Handley advocates clearly for quality over quantity)



6. Audience

Build an audience. Know the audience. Nurture the audience. All of these are precursors to selling to the audience, a right that must be earned. Chris Brogan, Joe Pulizzi, Mike King, the Brian Clark / Scott Stratton / Ryan Deiss panel and a few others invested time in advancing these concepts. Kin: Human and Empathy.

7. Service

I opted for service here, but value, education, and trust all connect. A service mindset is a winning mindset. Dan Pink, Sean D'Souza, and Chris Brogan were among those who specifically advocated for a service approach to selling. Kin: Human, Empathy, and Audience.

8. Transformation

One of my favorites. Unless my notes failed me, Sonia Simone was the only person who explicitly said the word. Transformation in the lives of people is the outcome of so many of the other themes. If we're not transforming lives for the better, why are we doing the things we're doing?

9. Integrity

If one word from Henry Rollins' incredible hour on stage continues to echo a week later with me, it's this. You are one with your work; you should control both your art and your commerce. There is no divide. And in this, you retain integrity. Related: do not miss the opportunity to see Rollins live for a blast of honesty, integrity, passion, and perseverance.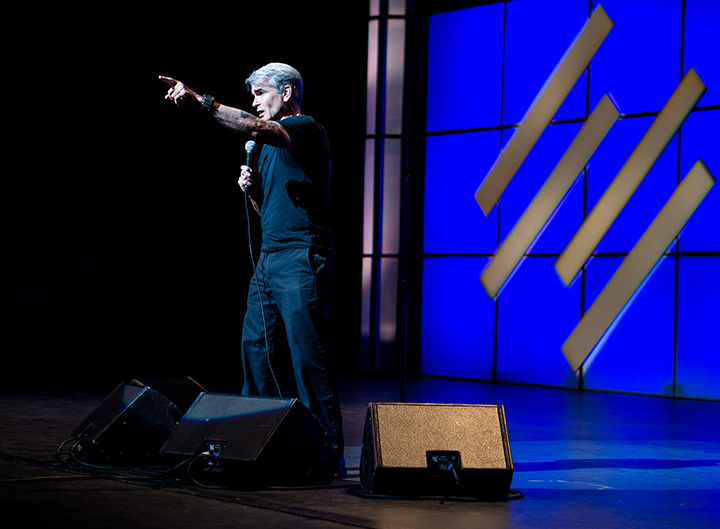 (Understatement: Henry Rollins speaks with conviction)
12 Quotes
As with the themes, Authority Rainmaker presented so many pithy, potent, and passionate lines. A ride on the #Authority2015 hashtag will provide more than these dozen from my notes.
1. "Price dominates in the absence of relevant information. Relevant information delivers the value."

Sean D'Souza

2. "Content is not king. The consumer is king."

Mike King

3. "No story lives unless someone wants to listen."

JK Rowling via Bernadette Jiwa

4. "Whoever gets closest to the audience wins."

Bernadette Jiwa


(Chris Brogan builds, serves, and nurtures an audience)


5. "It's not your community. It's a community that you earn the right to serve."

Chris Brogan

6. "We are honest because we have fans who hold us to account every day."

Henry Rollins

7. "Self deprecation works wonders."

Jerod Morris

8. "(Rather than simple self-affirmations) Opt for the quiet muscularity of interrogative self-talk."

Dan Pink

9. "Stop trying to be better and try to be yourself."

Sally Hogshead

10. "Different is better than better"

Sally Hogshead

11. "What can be said at all can be said clearly."

Ludwig Wittgenstein via Robert Bruce

12. "Make things that promote peace, efficiency, sustainability … and fun."

Henry Rollins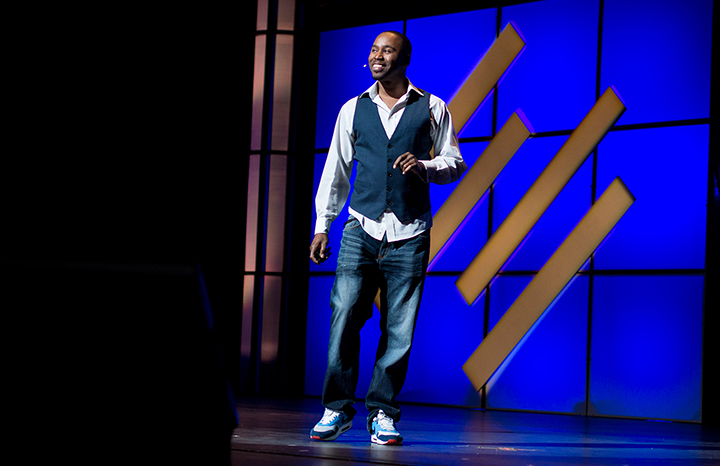 (Mike King breaks down personas and content audits in detail)
Quick Conclusion
So, that's a sort of 1-3-9-12 review of a fantastic event.
With a nod to Joe Pulizzi's opening concept, specific expectations were few going in; satisfaction was insanely high on the way out (that might be the Rollins aftereffect talking).
I knew the lineup of presenters was strong, but the way the concept and community came to life was fantastic.
Thank and congratulations to the entire Copyblogger team, including Jessica Commins and Kim Clark.
Speakers at Authority Rainmaker 2015
Listed in order of presentation, each person's name links to their Twitter profile. They were smartly sequenced from design and content through traffic and conversion.
Day 1: Dan Pink | Scott Brinker | Pamela Wilson | Sonia Simone | Ann Handley | Jerod Morris | Bernadette Jiwa | Chris Brogan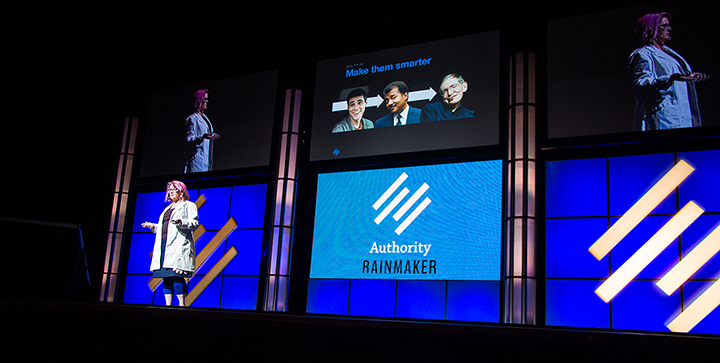 (Sonia Simone explains how to make money shoot out of Mount Doom)
Day 2: Sally Hogshead | Danny Sullivan | Mike King | Joe Pulizzi | Sean D'Souza | Joanna Lord | Brian Clark | Ryan Deiss | Scott Stratton | Henry Rollins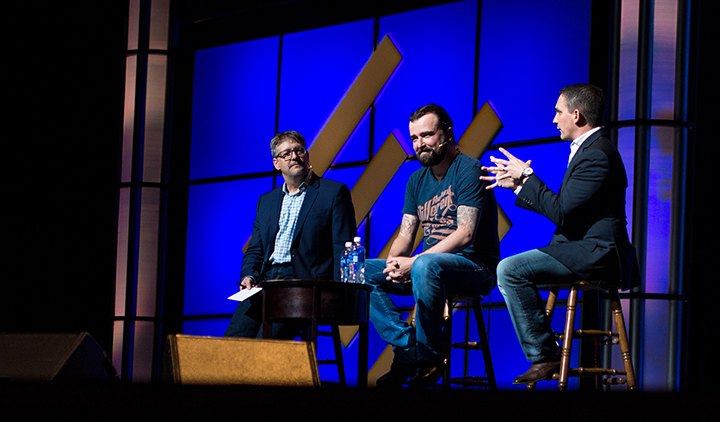 (Brian Clark, Scott Stratton, and Ryan Deiss largely agree)
Shout Out to TechnologyAdvice
Really enjoyed connecting with the TechnologyAdvice crew, who provided coverage of Authority 2015 before, during, and after the conference.
Hear a great piece of audio from conference podcaster Clark Buckner rounding out the entire event:
See that entire post here at Copyblogger.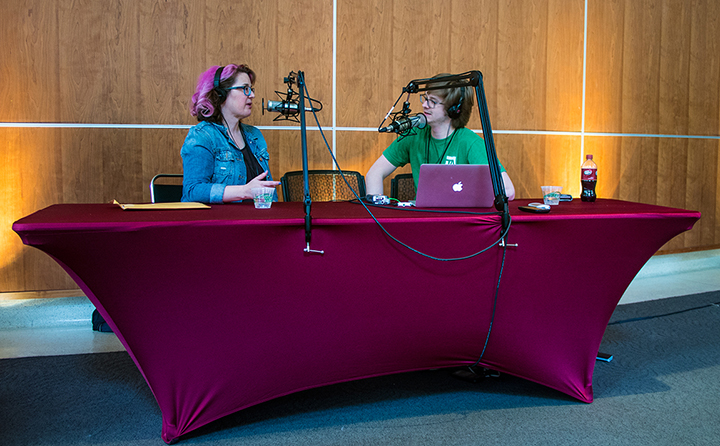 (Clark Buckner talks with Sonia Simone for the TA podcast)
Like These Photos? Want Dozens More?
I shot all these photos and many more during the event. See, take, and use any of my photos by clicking through to my #Authority2015 Flickr album and download anything you want.