First, the good news. Any day now, we should receive a free shipping label from HP to send our useless printer to one of their recycling centers.
That's the full and complete extent of the good news.
This is the story of an otherwise functional HP PhotoSmart 6525 All-In-One Inkjet Printer that stopped printing black ink and, as a consequence, faces the fate of dismantling and (hopefully) reuse.
Before Our HP Printer Stopped Printing Black Ink
Fun Facts about Our HP PhotoSmart 6525
We bought it at Costco a few years ago.
It required A LOT of new ink cartridges.
We exclusively used "genuine HP ink," until …
I tried to save 15% by buying Office Max / Office Depot ink.
The printer stopped printing black ink.
Years of Expensive Use
Yes, this printer worked fine for two or three years. It sucked down a fat lot of "high yield" ink, but it worked well enough.
Proof of insurance for the car's glovebox. Text and images for the science fair project. Our PhotoSmart 6525 dutifully (if expensively) handled all the basic chores we assigned it.
On the regular, we'd buy and drop in another set of Genuine Factory-Sealed HP Brand Cartridges.
Until …
Office Max/Office Depot Ink
With a little more focus on the household budget, I decided to give some less expensive, house brand ink a try.
Office Max/Office Depot (yes, they're the same company) takes spent HP ink cartridges and fills them up with their own ink. And they sell it side by side against "genuine HP" cartridges at about a 15% markdown.
I tried it. Big mistake.
Minor issue: the printer immediately let us know that danger was imminent; impure, tainted, off-brand cartridges were detected. "They have to scare us to protect sales against less expensive competitors," I told myself.
Significant issue: The first 10 pages we printed looked awful, so we took them back to exchange them for Genuine Factory-Sealed HP Brand Ink Cartridges.
After a little back and forth, the office store employees agreed to give us store credit for their house brand cartridges.
Now I'm paraphrasing here, but the shift manager at Office Max/Office Depot told us (approximately):
I hate that we sell this ink. I caution people against buying it.
I only wish she'd been on duty when we made the initial decision.
When Our HP Printer Stopped Printing Black Ink
We paid the $17 difference between the "genuine" and non-sanctioned cartridges, took the new ink home, and installed the cartridges.
Printed text and images still looked bad. A little Google search produced these step-by-step instructions from HP.
The Print Quality Diagnostic (below) sheets made clear what the problem was.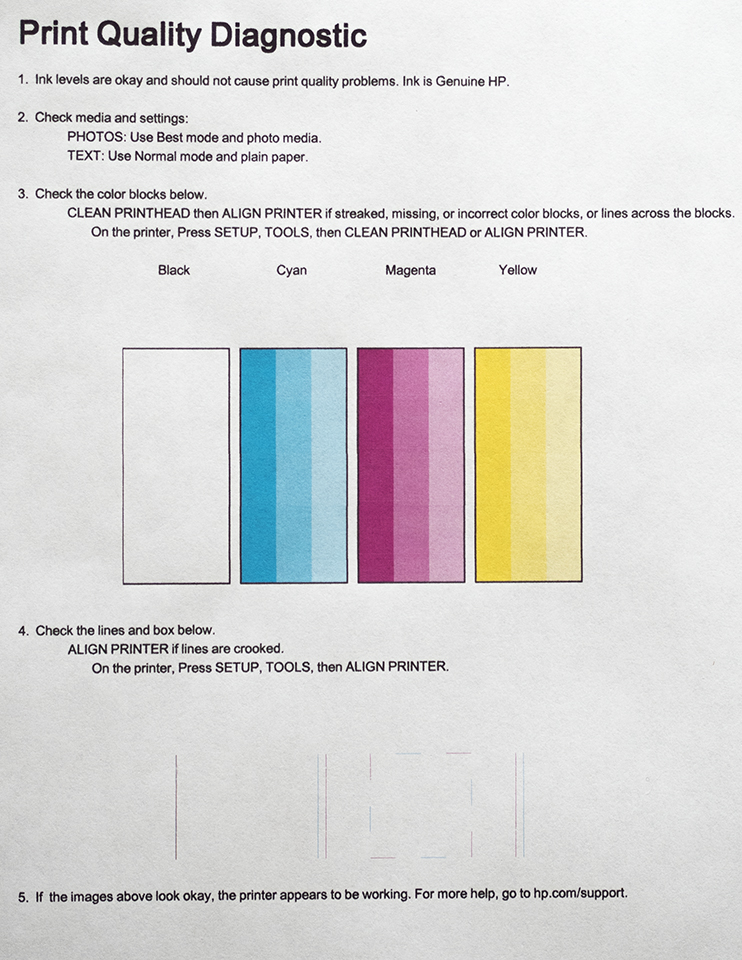 When we tried to print plain text documents (black text only), the sheets shot out empty; this Diagnostic sheet made clear why.
Notice that the cyan, magenta, and yellow all look fine – printing all 3 shades without any striping or streaking.
The black? Empty.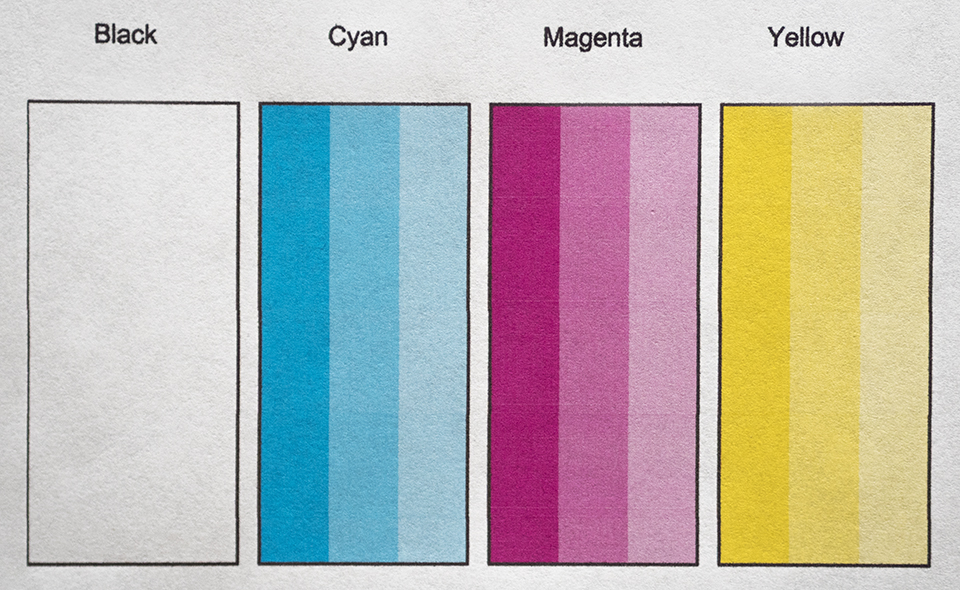 NOTE: The letters and boxes have a slight 3D look to them – made of the mix of colors, rather than properly printed with black ink. Again, printing in black only produces empty sheets.
Not Printing Black Ink: "Apparently This Is A Thing"
The heads aren't clogged. All recommended steps had been taken. No black ink.
Though I have no evidence for it, I suspect HP set up a kill switch on the black cartridge upon reception of any ink cartridges except "genuine HP ink" cartridges.
Either that – or it's a major firmware failure.
Either way, HP knows about it. I found several posts in their customer/product message boards. And it's well documented in the Amazon reviews for this product.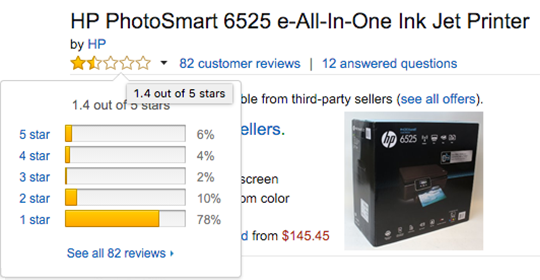 Not only does this HP printer have one of the lowest set of customer reviews I've ever seen on any product (yes, that's 1.4 stars total and 78% 1 star reviews), the black ink issue seems second only to how badly it sucks through ink.
Here are a handful of quotes from the Amazon reviews:
"My black ink just stopped working all together."
"On my 2nd nearly new official HP Black ink cartridge the printer stopped printing in Black."
"Two years and the printer will not print black ink. Apparently this is a thing."
"Now I can't get the black ink to print, seems it is a common problem as there many complaints on the HP site."
"I experienced the same issue that a lot of people had when replacing the black ink cartridge and it would no longer print black."
"I've only used mine about 9-10 times when it just stopped printing black."
"Much like a lot of the reviews the black ink was the problem."
"You may discover that it's somehow impossible to print black only."
"Streaks on the pages, jamming problems, disconnect problems … but, worst of all, after a year, it stopped printing black ink no matter how many times I cleaned, re-aligned and bought and replaced with brand new black ink cartridges."
"Just this week I put an OEM cartridge into the printer and then Black color was missing when I printed the quality diagnostic."
"This is the second HP printer I've owned that has stopped printing in black."
"Prints good at first, after warranty expires they quit printing black."
"As has been said before, the black ink just stopped printing."
"First time to change cartridges and it won't print black."
"Less than a year old. Will not print from the black cartridge."
"We have had our 6525 for 26 months, the black just quit printing, tried everything recommended, still won't work."
What To Do with a Printer That Doesn't Print in Black
After exhausting the first four fixes on the five step list, HP recommends getting the PhotoSmart serviced.

But …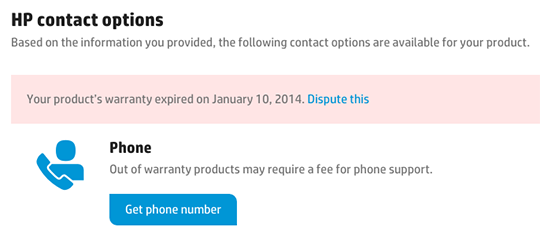 Though they threatened a fee for the phone call, I called anyway.
After 10 minutes on hold (not bad on a Saturday morning), I was connected to Christopher, a very kind and helpful gentleman in the Philippines (I asked, he shared).
He was very well aware of the black ink problem; I felt certain right away that he'd spoken with many customers about it. A script can only take you so far – and he was well past that.
I followed all the steps through which he walked me, including wiping off the copper contacts on the cartridges and in the printer. We concluded by printing yet another no-black Printer Quality Diagnostic Sheet.
Christopher suggested that it was a "hardware issue" that couldn't be resolved because this model doesn't have a removable printhead.
Of course, it's not a hardware issue. It's a software or firmware issue. Something inside the printer told it to stop printing from the black cartridge.
I asked about a hard, internal reset that might make our HP PhotoSmart 6525 All-In-One printer forget I'd ever committed the sin of placing a non-genuinine ink cartridge against its copper contacts. You know, Men In Black neuralyzer style.
No such luck.
So, I can't use it. Nor should I donate it. I hate to trash it. And, fortunately, Christopher had a great answer to my concluding question.
HP Printer Recycling – And an Insistent Sales Pitch
I asked if they could salvage anything from it or reuse some or all of the printer. Christopher sent me a link to send it to an HP recycling center.
Though I couldn't find the HP PhotoSmart 6525 on their drop-down list of specific models, I still requested a free shipping label to send our perfectly-fine-except-that-it-stopped-printing-black-ink printer back to them. I just picked a different model.

Knowing I was without a properly functioning printer, Christopher also made a hard pitch on "upgrading" to a new or refurbished HP product. Several mentions. Polite, but very persistent.
Of course, I'd ordered a new one from a different manufacturer days earlier, so his efforts produced no fruit.
Takeaways from the Black Ink Problem
> Personal opinion & speculation: HP seems to have created the "give away the razor, profit from the blades" dynamic with this printer and its inks. Sell the printer cheap at Costco, Sam's Club, and elsewhere. Make it suck down tons of ink. Punish people for non-sanctioned ink. Design in a fixed printhead, so the printer is immediately useless.
> Instant uselessness like this is incredibly wasteful.
> Recycling helps retrieve value from an otherwise useless printer like ours. A cradle-to-cradle approach in manufacturing is even better.
> Both HP and Office Max/Office Depot are knowingly putting their should-be-valued team members in bad situations. Three team members at the Office store endured unpleasant exchanges with me because of bad products, as did the kind gentleman overseas for HP. And they're obviously not alone. Those 1-star Amazon reviews date back to March 2013. Employees are at the front end of the service profit chain.
> Look at Amazon reviews before buying anything. Even at Costco.
> I aspire never to purchase another HP product.
[UPDATE: March 2017]
Thanks to Michael, who commented below, for offering this potential fix:
I had this exact same problem and just fixed it by reconfiguring to the default settings. I went to Applications on my Mac, clicked on Hewlett-Packard, then clicked on Setup Assistant, accepted the user agreement and kept clicking continue until the setup was done. IT PRINTS IN BLACK AGAIN!
And another recommendation made in the comments is this video.
My HP printer is LONG GONE, so I can't test it myself. You, however, might give it a try for yourself!