Who knew!?  You can have a high-definition video camera with 2 hours of storage that runs off rechargeable AA batteries delivered to your home in two days –  complete with an additional carrying sleeve – for well under $200.  Really.
On a whim and to understand the product, I ordered a Flip UltraHD video camera with a padded, draw-string Case Logic sleeve from Amazon with 2-day shipping.  The total cost was something like $172, including the cost of tw0-day shipping (overnight adds another $10-12).
Within 5 minutes of opening the box, my 6-year-old was using it.  See here:

Here's a clip of the exterior and interior of a charming, little store in Old Colorado City that strictly sells honey-related products:

Here's a pan of Crystal Reservoir and Pikes Peak, just off the Pikes Peak Highway:
None of these videos has been treated or sweetened in any way – simply pulled from the camera by USB and posted straight to YouTube.  The video and audio could certainly be improved with a little effort.  You can also grab still photo frames from the video with the software that comes loaded on the camera.
Bottom line: absolutely simple to use, reasonably priced, hand-held.  Turn it on, hit the big, red button to record, hit it again to stop recording.  There are also play and delete buttons and a flip-out USB arm.  That's it.  It's not going to be confused with a proper video camera, as there are no settings whatsoever.  For basic and spontaneous video – insanely easy to capture and share – it can't be beat.
Here it is plugged into a USB port on the side of my laptop: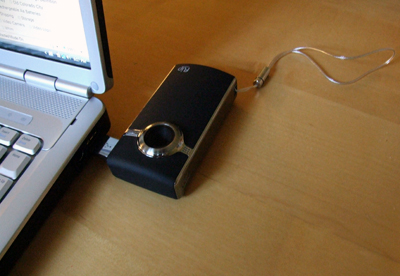 Prognostication: for a slightly more sophisticated user, Apple will probably fold a nicer HD video camera into the iTouch or iPhone.  These devices will make sharing HD video easier (wirelessly, directly from the device), but it will never be so simple to operate as the Flip.
Related: Cisco, which bought Flip, has been blogging about how the Flip belongs in every PR toolkit.
See a half dozen more videos from our first weekend with the Flip Ultra HD at:  http://www.youtube.com/ethanbeute